Oil Purification

is the product that

decompose sludge and oils and thus removes their foul odor.

It is also

innovative product

that solve many problems of grease traps and septic tanks installed in restaurants and food processing factories.


Oil Purification

reduces a chore in and costs

for equipment cleaning. Naturally,

Electricity and a machine are unnecessary.

Moreover it

prevents the clogging of drainage pipes.

It also prevents an accident by the clogging of drainage pipes.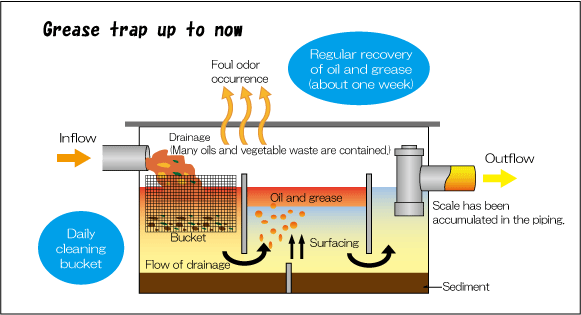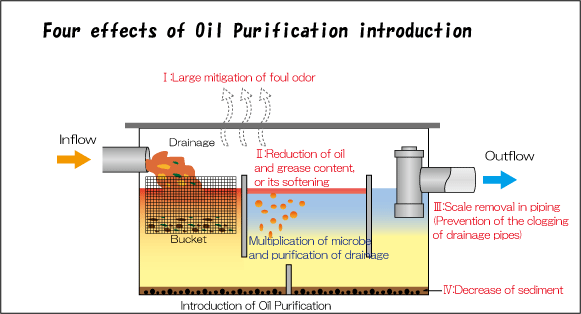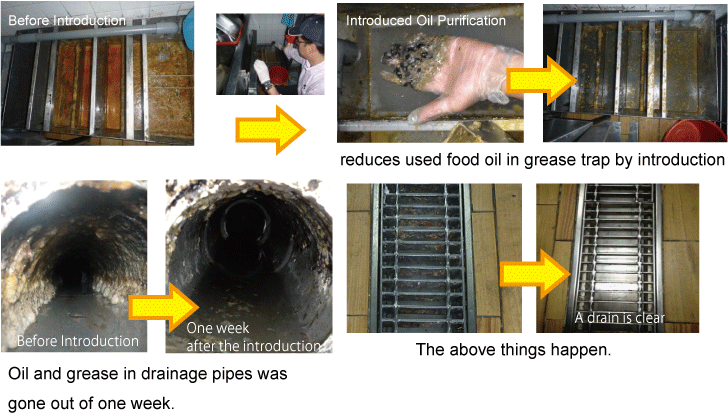 Drainage and the environment in the kitchen are wonderfully improved.


Unpleasant stench is reduced from that date.
It significantly reduces the number of drainage water quality and does purification.


Oil Purification

is the

safty product

that don't use chemical substances.It has also met all the 27 items of the environmental standards.


Add only once a month!

It is a very easy task.
Oil and grease in a grease trap is decomposed into water and carbon dioxide efficiently by microbes.

There is no effect to the environment.




Oil Purification uses the technology of Patent No.4710036.



This is a change of each element of the grease trap of a general store.


Problem is greatly improved in a month.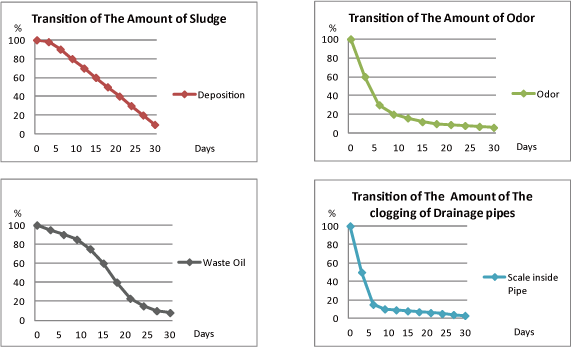 Environment of the grease trap is different depending on your business of the shop.


We propose the use of the Oil Purification best suited for your shop!
Track Record(case)
【Grease trap(1800L) of the kitchen in a certain hotel】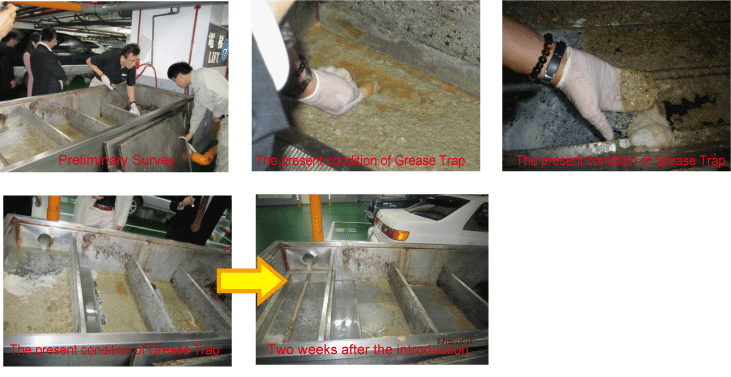 【Grease trap in a certain lunch factory】

【Outflow side drainage pipe of grease trap in a certain pastry shop】

We will answer the needs of everyone in any position, such as design, construction and maintenance. We will guide grease trap but also building diagnosis and health supervision education. Oil Purification is active inoverseas as well. (The brand name of China and Taiwan is "油浄.")
We are preparing English version and Chinese version catalogs of Oil Purification.
Customer requests have also dealt with below.

Clean Life CO., LTD.
Miyakozima Kita-street, Miyakozima-ku, Osaka-shi, Osaka-ken, 534-0014(Umeda building) Tel:06-4253-2555   (Staff:MORIMOTO)

中国(China)
北京緑洲環美科技発展有限公司

台湾(Taiwan)
亞太環境科技股份有限公司(Asia Environmental Technical Corporation)